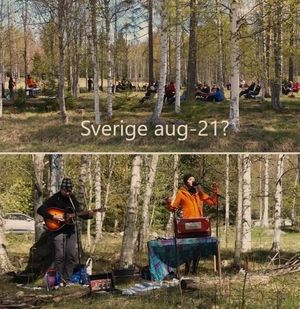 We are looking at the possibilities to do a new round of outdoor concerts like we did last year, this time in the Southern parts of Sweden (well, between Dalarna and Skåne). We have an idea of which cities we'd lika to visit but now is the time to have your say.
Do you have suggestions of beautiful places where we can do a concert? In a garden, on top of a hill, in a forest, you name it.
Write to us (indigorado@gmail.com) for any suggestions, we are grateful for anything thrown at us (except rotten tomatoes and eggs).
In this moment our preliminary tour plan include these cities: Gävle-Stockholm-Västerås-Örebro-Linköping-Jönköping-Växjö-Malmö-Trelleborg-Helsingborg-Falkenberg-Göteborg-Säffle-Karlstad-Karlskoga.
All the best!